Here's the Bridal Shower we did on August 30, 2015...that day we remembered to make a video!
Click the photo below and watch a 43-second video of the lovely main table at the Bridal Shower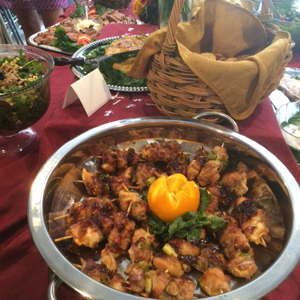 ...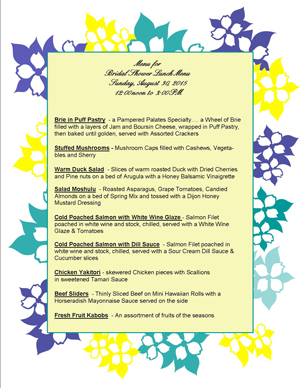 Since 2006, we've done many types of events:
At-home dinner parties of any size - our specialty

Hands-on cooking classes taught in a dinner-party format—the participants prep and cook under supervision of the chefs...what a blast!

Demo dinners where the guests watch and interact with the chefs as the chefs are cooking

Anniversary Parties

Holiday parties

Cooking and Food Demonstrations

Receptions - to date, we've done for up to 250 guests

Bar/Bat Mitzvah Celebrations

Bridal Showers

Wine & Cheese Pairing Events

Meals of Consolation after funerals
We'll come to the venue of your choice—your home, your church, synagogue, club, hall, or business location. All we need is a kitchen in which to prep, cook, and serve your guests.
We'll shop for and bring all needed fresh ingredients to your venue. You only need to relax and enjoy as the wonderful meal you've requested comes together.
Our extensive menu of gourmet options for parties and events are not listed on this web site - please give us a call and we'll be happy to put together a proposed menu for you to consider. We ask you not to drool while considering the options we offer.
If your event is being planned well in advance, references are available upon request.